Paddling Trail Maintenance
San Antonio Bay Partnership chairman, Allan Berger regularly monitor and maintain the signage along the Texas Parks & Wildlife Paddling Trails throughout the San Antonio Bay / Guadalupe Estuary System. Trail markers and signage fade from salt & sun, get lost from wind and tidal movement, get dirtied by birds and shot at by hunters. Allan and his wife Brigid repair and replace trail signage several times a year. Their reward is seeing so many paddlers and paddling anglers utilizing the trail system. If you see a sign or marker that needs attention, please contact Allan at allanrberger@outlook.com
---
Seadrift Paddling Trail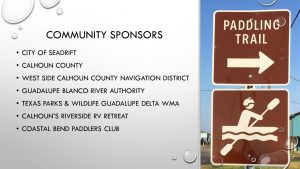 San Antonio Bay Partnership collaborated with numerous community sponsors to established the new Seadrift Paddling Trail adding 20 miles of coastal paddling to the Texas Parks & Wildlife trail system.  From the towering tree lined Guadalupe River to open water paddling across San Antonio Bay and hugging the Seadrift Bay Front Park shoreline, there is something for everyone on this trail. Get all the details of the trail at TPWD paddling trail website.
Click here to watch the video of the Seadrift Paddling Trail inaugural paddle and ribbon cutting ceremony, June 2018.
Read the local Dolphin Talk Newspaper coverage of the Seadrift Paddling Trail Opening.
---
Port O'Connor Paddling Trail Expansion
The Westside Calhoun County Navigation District, the Port O'Connor Chamber of Commerce, and Calhoun County have joined San Antonio Bay Partnership as Community Sponsors of the POC Paddling Trail working with Texas Parks and Wildlife expand the existing trail system for the use and enjoyment of locals and visitors. Read the local Dolphin Talk Newspaper article.
Enhancements
Kayak Launch Kiosk & Paddling Trail Map
Expansion: The Bill Davy Reef / Bar Room Bay Loop now provides a 5.6 mile loop in protect Bar Room Bay.  The end point would offers a good birding and picnicing area.
Expansion: The Pass Cavallo Jhook Spur offers a 4.8 mile paddle (one way) to historic Pass Cavallo. Additionally, the route provides an alternative access to Big Bayou, avoiding the heavy motor boat traffic in Little Mary's Cut.
Status: Ribbon Cutting Ceremony July 9, 2015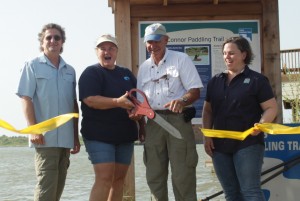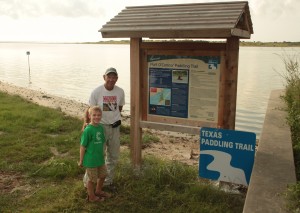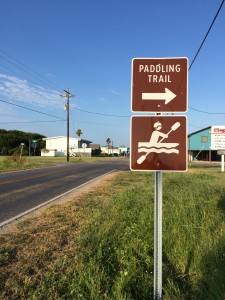 Find all the details about the Port O'Connor Paddling Trail on Texas Parks & Wildlife's website
For information on this project or other potential padding projects in the area, contact Allan Berger (713-829-2852;  allanrberger@comcast.net)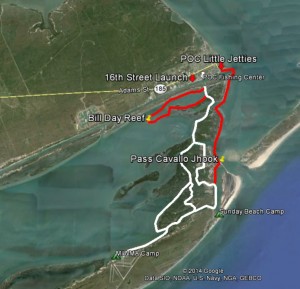 To make your donation and help us continue to 
Expand Paddling Trails in the San Antonio Bay / Guadalupe Estuary System contact 
AllanRBerger@outlook.com