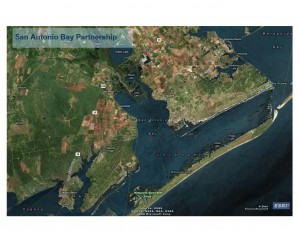 Mission
The San Antonio Bay Partnership (SABP) is a regional, non-profit, stakeholder-driven planning and management program for the San Antonio Bay/Guadalupe Estuary.  The purpose of the San Antonio Bay Partnership is to create and sustain a working partnership of committed stakeholders in order to protect, restore and enhance the natural resources of the San Antonio Bay System for the benefit of the ecosystem and its human uses.
Area of Interest
The San Antonio Bay System is located along the central Texas coast and supports significant natural resource dependent economic activities including commercial and recreational fisheries, ecotourism, and boating.  The System is located between Matagorda and Aransas bays and at the terminus of the San Antonio River and the Guadalupe River watersheds, approximately 10,000 mi2.  The average depth within the bay is approximately 4 feet and the maximum natural depth is 7 feet; exceptions include Espiritu Santo Bay with a maximum depth of approximately 8 feet and Steamboat Pass with depths down to about 31 feet.  The San Antonio Bay system exchanges water with Matagorda Bay, located to the northeast, and with Aransas-Copano Bay, located to the southwest.  Marine water is exchanged between the Gulf of Mexico and the estuarine system through the Pass Cavallo tidal inlet, the Matagorda ship channel, and through Cedar Bayou, when open. The San Antonio Bay System project area is composed of Espiritu Santo Bay, Hynes Bay, Guadalupe Bay, Mesquite Bay, Carlos Bay, Ayres Bay, Mission Lake, and Pringle Lake.  Communities located within the SABS project area include the communities of Port O'Connor, Seadrift, Austwell, and Tivoli.  The larger City of Victoria is located just outside the project boundary.  Counties within the project area include:  Aransas, Calhoun, Refugio, and Victoria.
This large (531 km²) estuarine complex is one of the seven major estuaries along the Texas coast and is extremely unique in that wetlands associated with large portions of the surrounding shoreline provides critical wintering habitat for the last wild flock of the endangered Whooping Crane (Grus americana).  This iconic species is part of the higher biodiversity that is also dependent on a healthy, functioning ecosystem.  Focal guilds representative of the San Antonio Bay system include nesting colonial waterbirds and migratory/wintering waterfowl and shorebirds.  Additionally, the San Antonio Bay also supports important commercial (oysters and shrimp) and recreational fisheries, which depend on surrounding wetlands for maintaining water quality and providing nursery grounds for fish and shellfish.
Stakeholders
Participation in SABP is open to anyone.  Stakeholders currently participating in SABP activities represent a wide range of environmental, recreational and economic interests.  Stakeholders come from both the area around the bay and the larger region of the San Antonio and Guadalupe River watersheds, which provide important fresh water inflows to the estuary.  SABP's efforts to protect, restore and enhance the San Antonio Bay/Guadalupe Estuary System reflect this watershed approach.
SABP depends on stakeholder involvement for input on issues, technical assistance and financial support.
Board
SABP is a non-profit organization, incorporated in Texas as The San Antonio Bay Partnership, Inc. (SABP, Inc.) and is recognized by the IRS as a 501(c)(3) tax exempt organization.  SABP, Inc. is governed by an appointed Board of Directors that consists of members with diverse backgrounds from different geographic areas along the middle Texas coast.  Current Board members are:
Allan Berger, Jr, Chair (Port O'Connor)
Vickie Grove, Treasurer (Houston/Seadrift)
Steven Fotiades , Secretary (Victoria)
Jerry Pearce (Victoria)
Charles F. Clapsaddle (Goliad)
Ed Boyer (Rockport)
Charles Gremminger (Seadrift)
Steve Marwitz (Port Lavaca)
Jay Cliburn (Victoria/Seadrift)
Get Involved
Interested in learning more about SABP and our on-going activities – contact Allan Berger 713-829-2852 allanrberger@outlook.com
Support Us! Through your generous donation we are able to continue existing programs and launch new initiatives.
Amended and Restated Bylaws of the San Antonio Bay Partnership, Inc 2015-05-11
Texas State Comptroller's exemption from franchise tax