Boggy Nature Park Improvement Plan
The proposed Improvement Plan was presented to and endorsed by the Calhoun County Commissioners Court by Calhoun County Park Board President Allan Berger at the Nov. 20, 2018 meeting.
GLO Grant for Boggy Nature Park Improvements FY 2021
Calhoun County will protect the natural environment and enhance public access to Boggy Bayou Nature Park in Port O'Connor, TX. The County will install a swing gate to keep cars out of the area when it's flooded, install bollards to protect the marsh from being driven on, install a kayak launch, and elevate the access road.
GLO Grant
There is also a GLO CEPRA grant underway to evaluate and determine solutions for erosion at Boggy Nature Park.
POC Elementary Students Kick-Off 2018 Spring Break with Field Trip
On Friday March 9, 2018 with spring break in the air, Port O'Connor Elementary 4th and 5th graders took a morning field trip to Boggy Nature Park. The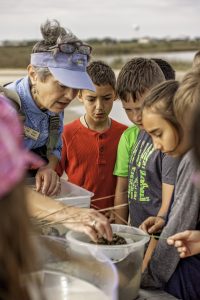 hands-on lessons on marsh ecology included discussion of the numerous habitats within the park, collecting fish, crabs, and shrimp from the seine, observing birds of the marsh with binoculars and a spotting scope, and the importance of citizen science.
The students were accompanied by teacher while instruction was provided by Texas Master Naturalists Brigid & Allan Berger and Beth Hudson, and by Dr. Russ Miget with the Texas Floating Classroom, Inc. The outing was sponsored by the San Antonio Bay Partnership.
Students kept track of the birds they spotted. Among their favorites were a large flock of White Ibis that flew directly overhead and a pair of Oystercatchers feeding with their bright orange bills on the reef at the mouth of Boggy Creek. Seining produced see-through grass shrimp, many types of juvenile fish and several small crabs.  Students studied a large chunk of live oysters and the many marine invertebrates it harbors, and marsh periwinkle snails which worked their way up and down marsh grass eating algae. The student got to see for themselves the rich habitats within the salt marsh as they touched then released the critters safely back into the water.
All judged the outing a huge success and plans will be made to do it again. After all, no one had to travel very far to have such a fun and educational time. Boggy Nature Park is a prime example of critically important habitat along the Texas Gulf Coast and it's right here in our backyard!