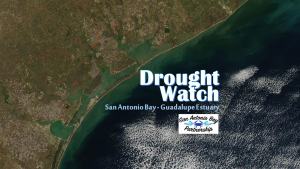 As recent observations of stream flow and drought index data have revealed an increasingly alarming trend in the South Central Texas/Middle Texas Coast region,  SABP has compiled the most recent data into a series of images illustrating the current status of drought conditions and stream flow, as well as salinity at TWDB's "

DELTA

" water quality monitoring station in San Antonio Bay, near Seadrift, TX.
This information will be updated weekly. 
For more information contact: James Dodson, Program Facilitator/Project Manager
jdodson27@gmail.com
San Antonio Bay Drought Watch 
5/27/2021 Continuing the last few weeks' look at streamflow measured at the USGS gage on the Guadalupe River at Victoria — as a general indicator of streamflow headed for San Antonio Bay — we see that another high flow event is occurring as I write this.  It has been about one month since the rains and runoff began and we're now seeing the third time since mid-April when the flow has jumped above the median flows for this period — with this third, present event, an order of magnitude greater than the first "high-flow" event at the end of April.
What is interesting to note is that during the period of time between these high flow events, gaged flows fell back to below the long-term median values for the day of the year.  For example, after a peak flow of 10,300 cfs on May 5, 2021, by May 14th, flows were back down to 566 cfs, far below the historical median flow for May 14th:  ~ 1,400 cfs.  When the most recent flooding began on May 18th, the gaged flow was 679 cfs while the historical median flow for that date was again around 1,400 cfs.  It will be interesting to see what happens in terms of what flows go back to after this current peak subsides.  Stay tuned!  James Dodson