In 2015 San Antonio Bay Partnership and Texas Master Naturalists, Mid-Coast Chapter developed a program to get area children out into the bird-rich area in which they live. Allan Berger and Brigid Berger were inspired when they saw a large group of very excited young people walk through the vendor exhibits at the Rockport HummerBird Celebration on their way to the classroom areas where there were presentations and speakers. After they emerged from the conference, the kids were even more excited. Brigid and Allan stopped them to ask who they were and where they were from. Hearing from the students that they were a "Birding Team" from the Fulton Learning Center, the Berger's where inspired to create that kind of opportunity for young people in the San Antonio Bay Area.
After mentoring with Fulton Learning Center's Science Lab teacher, Martha McLeod, Allan and Brigid knocked on the doors of local elementary schools. Austwell-Tivoli principal, Mr. Stephen Maldonado enthusiastically welcomed the idea and the program was launched.
Read More about the Kids Birding Program: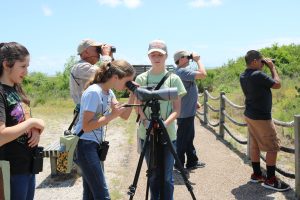 2015-2016 Inaugural Year, Austwell-Tivoli ISD  Gifted and Talented, Kids Birding Program
2016 – 2017 Austwell-Tivoli Kids Birding Program
Unfortunately, the 2017-2018 Program was cancelled due to the impact of Hurricane Harvey. The school experienced heavy damage resulting in a significant loss of school days and a huge disruption to normal school operations. We are hoping to resume a program in future.
Other Bird Education Programs facilitated by SABP and the Texas Master Naturalists:
Camp Hummerbird, September 18, 2015
Wintering Whooping Cranes, February 18, 2016
Camp Hummerbird, September 16, 2016
Sky King Falconry, March 3, 2017
If your school or organization would like to start a Birding Program and would like help or advise, contact Brigid Berger, brigidberger@comcast.net
Update: In August 2017 Hurricane Harvey battered the Texas Coast and Austwell-Tivoli ISD was significantly damaged. Unfortunately the birding program was suspended.