In 2017 San Antonio Bay Partnership began participating Texas Parks and Wildlife Abandoned Crab Trap Removal Program to help clean the bays of abandoned crab traps. SABP organizes the efforts in and around the Espiritu Santo Bay and San Antonio Bay and we work with partnering organizations to clean up surrounding bays including:
Lavaca Bay Foundation
Matagorda Bay Foundation
Flatsworthy / Mission Aransas NERR
The success thus far is evident in the numbers! Lots of great info below about our successful of these efforts.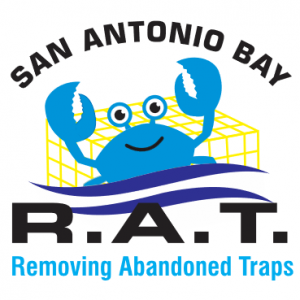 Many, many thanks to all of those who came out to help. It's a dirty job and we're so thankful that so many folks want to help!
TO HELP: If you would like to join us this coming February to make our Texas Bays cleaner and healthier for humans & the animals which live and reproduce in this important estuary system, contact Allan Berger allanrberger@comcast.net   713-825-1929
Other Media Coverage SABP / Crab Trap Removal