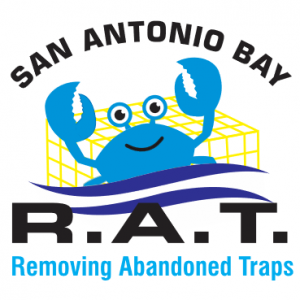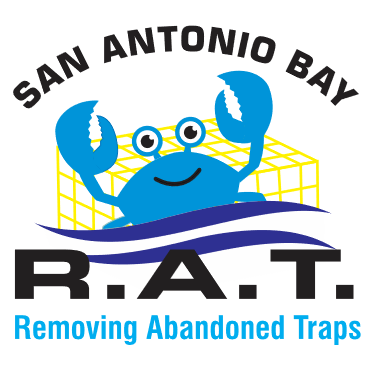 In 2017 San Antonio Bay Partnership began participating Texas Parks and Wildlife Abandoned Crab Trap Removal Program to help clean the bays of abandoned crab traps. SABP organizes the efforts in and around the Espiritu Santo Bay and San Antonio Bay and we work with partnering organizations to clean up surrounding bays including:
2021 Abandoned Crab Trap Removal Planning Underway
Save the Date! Saturday Feb 20, 2021 

(Feb 27 fallback date)
TPWD Crab Fishery closure period is Feb 19-28, 2021. This year's comprehensive, systematic approach to removing crab traps is set for Saturday, February 20th. Efforts have been expanded to include San Antonio, Aransas, Lavaca & Matagorda Bays. Search areas are defined out of Port O'Connor, Charlies, Seadrift, Austwell, Rockport, Port Lavaca & Palacios, with removal activities continuing throughout the closure period.
Funding for this year's effort is from a

NOAA Marine Debris Removal Grant

made possible by

Coast Bend Bays and Estuaries Program

.

A requirement of the grant is to collect volunteer effort and crab trap data using the cellphone "Collector" app.  The data will also help identify impact of derelict traps and root causes of trap dereliction.
Volunteers will be rewarded with a celebratory party in Port O'Connor on Saturday evening Feb 20 adhering to COVID guidelines.
Mark your calendars (2/20/2021), organize your team, and signup for your area! Contact Allan Berger allanrberger@outlook.com or 713-829-2852 with questions or  to sign up for your area.
Read about the Removal Program's past success!
Many, many thanks to all of those who came out to help. It's a dirty job and we're so thankful that so many folks want to help!
TO HELP: If you would like to join us this coming February to make our Texas Bays cleaner and healthier for humans & the animals which live and reproduce in this important estuary system, contact Allan Berger allanrberger@comcast.net   713-825-1929
Other Media Coverage SABP / Crab Trap Removal