The Westside Calhoun County Navigation District, the Port O' Connor Chamber of Commerce, and Calhoun County have joined SABP as Community Sponsors of the POC Paddling Trail. The group is worked with Texas Parks and Wildlife to maintain and expand the existing trail system for the use and enjoyment of locals and visitors.
Enhancements
Kayak Launch Kiosk & Paddling Trail Map
Expansion: The Bill Davy Reef / Bar Room Bay Loop now provides a 5.6 mile loop in protect Bar Room Bay.  The end point would offers a good birding and picnicing area.
Expansion: The Pass Cavallo Jhook Spur offers a 4.8 mile paddle (one way) to historic Pass Cavallo. Additionally, the route provides an alternative access to Big Bayou, avoiding the heavy motor boat traffic in Little Mary's Cut.
Status: Ribbon Cutting Ceremony July 9, 2015
Proposed Future Enhancement: 16th Street Park and Kayak Launch
County Road ROW,60' wide, dead ends into ICW, providing public access for kayak launch
Closest public property to Marker 1
Adjacent USFW property and dock might provides access for public fishing and a pocket park. USFW and TWPD support and approval required
Potential COE permitting issue due to need for short foot bridge and existence of cord grass
Status: preliminary planning underway
For information on this project or other potential padding projects in the area, contact Allan Berger (713-829-2852;  allanrberger@comcast.net)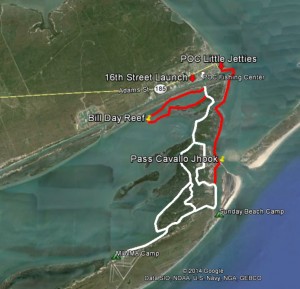 Make your donation today to help us continue to
Expand Paddling Trails in the San Antonio Bay / Guadalupe Estuary System!