Planning for the Future of San Antonio Bay
A Workshop to Map the Way
The first in a series of stakeholder-based planning workshops was held on Wednesday, October 31, 2012 at the The University of Houston – Victoria, .
The purpose of the workshop was to discuss:
the need for a plan to "protect, restore and enhance the natural resources and human uses of the San Antonio Bay system"

what the plan might look like

the scientific basis for planning and decision making

progress on the Status and Trends Reports

the importance of stakeholder input

what resources and tools are available to assist in the planning process, and

the next steps in the process
Information presented during the workshop, including summaries of several recently completed "Status and Trends Reports," and the discussion which followed, helped stakeholders to reach consensus that the San Antonio Bay Partnership should continue to focus its available resources on the current efforts to develop plans for Habitat Conservation and Coastal Public Access.  These stakeholder-based planning activities are being funded, in part, by a Coastal Management Program (CMP) grant and an EPA grant, both administered through the Coastal Bend Bays and Estuaries Program.
Planning activities in the next several months will focus on the development of the Coastal Public Access Plan for the San Antonio Bay System.  Stakeholder meetings will be held to solicit input on current and potential coastal access sites and issues.  Please plan to participate.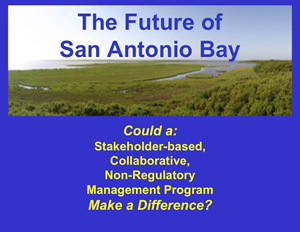 For a presentation on "The Future of San Antonio Bay" click here. (pdf file)