Come paddle with us as we explore San Antonio & Espiritu Santo Bays and their fresh water inflows.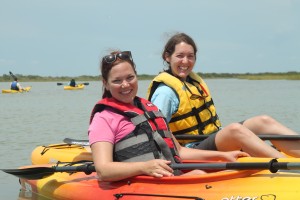 The planned paddles are a mix of experienced to beginner levels and provide the opportunity to paddle both coastal and inland routes–including in the moon light! There are several paddles scheduled for Saturday to see if that fits schedules better than Sunday. As we have been doing, we will strive to add an educational element to each paddle, either lunch or refreshments, and assist in shuttles as necessary. $20 fee is requested for each event. Funds raised will support SABP programs & efforts. Below is the schedule and tentative routes. To get on our email list with the latest up dates contact allanrberger@comcast.net
Mark Your Calendar to Come Paddle with Us! It will be fun! 
LAST PADDLE FOR 2017!
Nov 11 (Saturday)  Guadalupe River– Thomaston to Nursery  ~9 miles Intermediate
If you would like to be included on our email announcements please contact AllanRBerger@comcast.net